HASSAN BIN RIZWAN – THE METICULOUS BOSS
Hassan is by far the most curious person at SABAQ. He loves what he does and is doing great as far as achieving his 'Purpose-Over-Profit' motto is concerned.
What excites Hassan? It is when he hears news about impact that SABAQ is creating across Pakistan. He believes he has created a collaborative environment where members from different teams work together and produce something great (that's not just the boss saying the usual nice stuff, it is actually true).
Fun Fact About Him: He is a 'Seinfeld Over Friends' guy!
Astonishing Fact About Him: As part of his survival training, he spent 3 days in a forest on his own and has made 15 unassisted free falls.
FARJAD ZAIDI – THE SUPREME TECH LORD
Farjad has been passionate about technology since his childhood when he used to mess around with electronic accessories at home to try to figure out how they worked. Even as he's grown older, that love of technology can easily be seen in the easy and intuitive way he has with all things tech. Whether it's Android app development or client support, Farjad likes to get his hands dirty along with the rest of his team. His love of tech spreads just the work-arena – as an enthusiastic gamer, he has set up a gaming room at his house for a holistically amazing experience. He is a huge fan of Marvel Cinematic Universe and DC Universe. He's generally the first one rallying his team to get tickets to whichever new Marvel & DC movie has just come out. Fun Fact about Farjad: He has some great aspirations. One day, he wants to be the king of the world (a just one, we hope).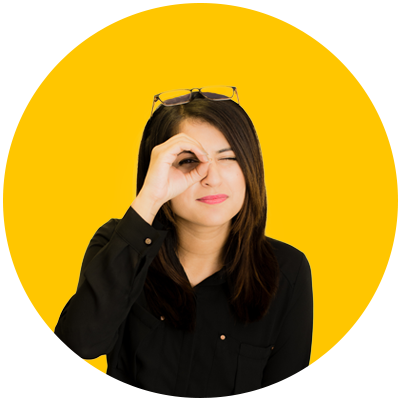 AMAL HAMID – THE ART LOVER
Amal manages production and lead modelling at SABAQ. The great thing about Amal is that she knows her team members more than any other lead at SABAQ. She's fun to be around and never misses an opportunity to crack a joke. She has created an environment of openness among her team where ideas flow both ways. She loves to draw and became friends with Art very early on in life. Now, she cannot imagine a life without it. Amal also enjoys cooking. She kills it with her 'Masalay wali Bhindi'. Her two amazing skills include eating corn flakes like chips and eating cold food right out of fridge. Currently, she's planning to watch the German show 'Dark' on Netflix. Fun Fact about Her: She, along with Azeem, has got
AZEEM ILYAS – THE DREAMER
Azeem lives and breathes animations. It is very likely that his thoughts and even his dreams are played out in some form of 2D animation. He is also the mind behind our favorite SABAQ characters Chunno, Munno, Pappu and Taara. From green screen to render farm, he keeps bringing new ideas to SABAQ. His team members complain that he gets too serious when playing Counter Strike (he apologizes later on, though). His skills include making a great 'Doodh Patti Chai' and an incredible 'Tawa Omelet'. Fun Fact About Him: Out of the 3 cats and 3 kittens he has, he has a favorite cat which he adoringly calls 'Coco'.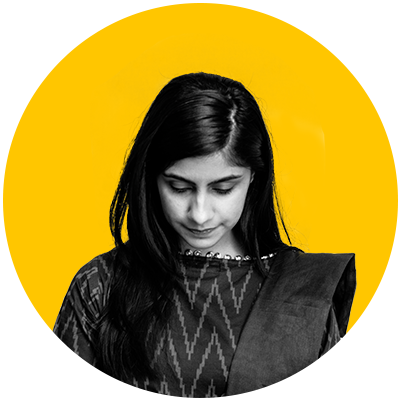 SARAH MIRZA – THE FOOD ENTHUSIAST
'If I have dessert for dinner, I'd still be hungry'. – Sarah Mirza.
When Sarah is not designing assessments for kids, she's often found talking to her coworkers very passionately about food. Food's not the only thing that literally and metaphorically keeps Sarah going, though. She loves being a part of SABAQ for its work-hard, play-hard energy and the fact that she gets to work on projects like hypercasual games and UX/UI – things she had never imagined she would know much about. She believes there's a lot to learn for everybody here.
What Sarah cannot handle? Spoilers of her favorite TV shows (you really don't want to do that).
Fun Fact about Sarah: Sarah's fullbright application essay titled "The thing I think most about is.." was entirely about food.
ZUBAIR RAO – THE FINANCE WIZARD
Zubair is SABAQ's resident Mr. Nice Guy, through and through. From salary disbursement to bookkeeping, Zubair deals with all things finance at SABAQ. He loves the culture at SABAQ where he feels like he has the ability to run things in a friendly manner. His team members can vouch for it, too.
He's also an avid cricket fan and he gets really upset when Pakistan loses, especially when it's a Pak-India match – but then, who doesn't?
Fun Fact about Zubair: At first glance, he doesn't look like a Bollywood fan, but if you dig in, you might find there's more to the story. His favorite actor from Bollywood is Aamir Khan.
MARIUM KHAN – THE MULTITASKER
From arranging company retreats to leading business development meetings, there's almost no problem at SABAQ that Marium cannot solve. She just rolls up her sleeves and gets the job done. She's also perfect for her role at SABAQ because she absolutely loves to observe human behavior. In fact, if she weren't doing this, she would probably be a psychotherapist (and a great one, at that!)
She loves lazy Sunday mornings and a solo trip to her favorite coffee shop is just what she feels she needs to kickstart her day.
Fun Fact about Marium: She can eat as much as she wants without ever gaining weight (She brags about it too).
HINA AMJAD – THE CURRICULUM MASTERMIND
Hina is truly the heart and soul of SABAQ. From designing curriculum framework to writing scripts, she is responsible for all of content that goes on SABAQ's apps. She loves exploring and experiencing new technology and loves to discuss new innovative ideas related to education. This is what makes her perfect for the job. When she's not at work, she spends time with her two adorable daughters (and probably learning from them the ins and outs of Snapchat). With her background in textile and design, Hina could imagine herself as a fashion designer in an alternate life. Fun Fact about Hina: She runs an Instagram page of exciting clothing items with her daughter. You can follow them @hj_workshop